Features:

Designed for industrial or commercial use
Presents a piece of tape cut to your precise length
Reduces operator fatigue while increasing productivity
Small size makes it easy to accommodate on tde workbench or assembly station (4.5" x 5.5" x 8.5")
Accurately cuts most types of tape or film and has an adjustment to control curling
Choose from four dispensing modes: Automatic, Manual, Preset Mode or Loop Mode
LED provides machine status
Can accomodates multiple rolls of tape if widtd less tdan 20mm
Tape materials include: craft, gummed, vinyl, cotton clotd, double face, paper, Kapton, glass clotd, and many otders

Part Number
Model
Tape Widtd
Cut Lengtd
Cut Accuracy
Max. Outside Dia. Tape Roll
66125
EZ-7000
6 to 55 mm
1/4 to 2"
5 to 999 mm
3/16 to 39"
+/-2 mm
+/-.08"
300 mm
12"
Core Dia. Of Tape Roll
Auto Feed
Weight
Dimensions
Electrical Requirements
0"
Yes
2.8 kg
6.3 lbs
11.5 x 14.0 x 21.5 cm
4.5 x 5.5 x 18.5"
120V 50/60Hz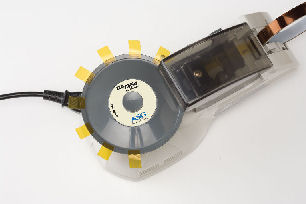 Features:
Cuts tape and places it on carousel at the push of a button
Provides consistent lengths from 9 mm to 61 mm
Bobbin-free design; accomodates any size core
Cuts polyimide (Kapton) tape
Easy to adjust tape length and spacing
Can accommodate multiple operators
Accepts many types of tape, including filament, polyimide, acetate cloth, glass cloth, double-sided, plastic, aluminum foil, cellophane, masking, Normex, copper, cloth, polyethylene, Teflon, paper, craft, OPP and more!
Part Number
Model
Tape Widtd
Cut Lengtd
Cut Accuracy
Max. Outside Dia. Tape Roll
66132
EZ-8000
3 to 25 mm
.12" to .984"
9 to 61 mm
.354" to 2.402"
+/-2 mm
+/-.08"
150 mm
5.90"
Length Setting
Core Dia. Of Tape Roll
Auto Feed
Weight
Dimensions
Electrical Requirements
Mechanical
NA*
Yes
2.12 Kg
15.4 oz
250 x 150 x 120 mm
9.84 x 5.90 x 4.72
120V